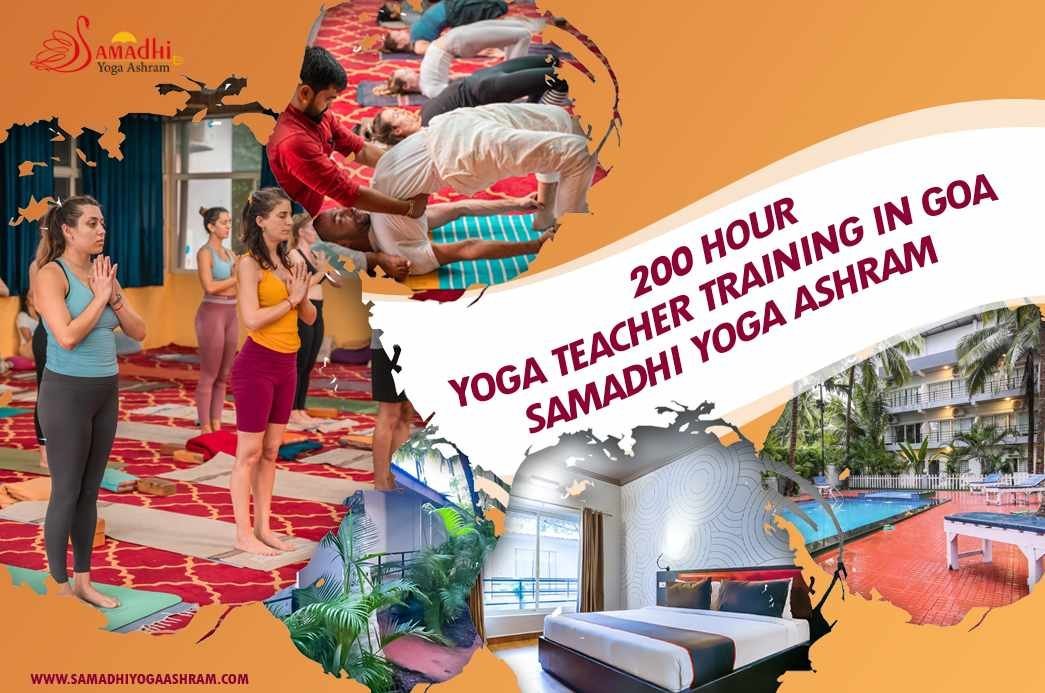 200 Hour Yoga Teacher Training In Goa | Samadhi Yoga Ashram
Are you willing to empower yourself with self-realization to practice and learn all asp[ects of traditional yoga? If Yes, then Samadhi Yoga Ashram is the right place. Goa is not just for parties, you can also find peace here along with the beautiful sunset, beaches, etc. You will feel like your life is better at the beaches. Goa will be your happy place once you join our 200 Hour Yoga Teacher Training In Goa.
Our new branch in Goa brings opportunities for a happy daily routine and good health. Join our 200 Hour Yoga Teacher Training in Goa to explore more about our offerings. The Samadhi Yoga Ashram has been spreading the ancient and traditional form of yoga worldwide. We are one of the oldest yoga schools in Rishikesh.
Samadhi Yoga Ashram In Goa
Now you can find us in Goa too. We are spreading our wings to the southern part of India to offer benefits to more people. Arabian sea, sandy beaches, and high bamboo trees lure you to visit Goa again and again. Samadhi Yoga Ashram is the best yoga school in Rishikesh. After a huge success in Rishikesh, we are opening our branch in Goa due to many queries from the Goa location.
Join Us To Begin The Transformation Of Your Life.
200 Hour Yoga Teacher Training in Goa
New In Goa, Not For Yoga…
We are successfully running our Yoga teacher training program in Rishikesh, India. However, we started getting more queries from the southern part of India and decided to open our new branch in Goa. You will better view beaches, palm trees, and other details.
At Samadhi Yoga Ashram, you will get essential insights about yoga. The Yoga TTC is designed to lead you to a fulfilling and happy life. It helps you to improve energy levels, mental flexibility, body flexibility, peace of mind, and focus of your brain. The course includes the practicality of a yogic lifestyle, divinity, excellence, inspiration, and nurturing focus. After the course, you will feel an energetic transformation.
The teacher training program includes the benefits of yoga and its practices. Most of the teacher training program includes:
Meditation
Yoga Nidra
Yoga sutras.
Sun Salutation.
Mantras & Practices
Pranayama Techniques.
Yoga History & Philosophy.
Bhagavad Gita, Vedangas, Vedas.
Different Asanas & science behind it.
Yogic principles are related to your nervous system and body.
What Will You Learn?
Samadhi Yoga Ashram in Goa is a preferred location for yoga aspirants and practitioners. We offer meditation, relaxation, pranayama, and hatha yoga group classes. We follow ancient and traditional yoga practices.
You will get over 25 classes a week to master the basic skills needed to become a yoga teacher or instructor. We offer a lot of diversity in yoga classes, along with different teachers for each class. At Samadhi Yoga Ashram Goa, we maintain the greatest level of integrity, study, and personal practice. We are creative and very friendly with our classes.
Our team includes one of the best yoga teachers available in Goa. You will learn the following details in this training course-
Meditation.
Yoga Asanas.
Sun Salutation.
Mantra chanting.
Yoga Philosophy.
Pranayama techniques.
Yoga Anatomy & Physiology.
Why Choose The Best 200 Hr Yoga TTC In Goa?
200 Hour Yoga Teacher Training in Goa is a fundamental course to start your yoga journey. It is one of the best ways to clear your doubts and query about ancient and traditional yoga and gain knowledge of the Yogic lifestyle. It will create a roadmap to deepen your connection and practice of yoga. You will also learn expansion and communication.
The training program is best for all yoga practitioners that help you to understand the fundamentals of Yoga. 200 Hour YTT Course in Goa, India, is a fundamental course required to get an RYT-200 Certificate from Yoga Alliance. You must choose the registered yoga school to get the Yoga Alliance certificate. Registered or certified yoga academy follows the guidelines and curriculum details from Yoga Alliance. It allows you to learn all the fundamentals of yoga, yoga philosophy, asanas, yoga practices, etc.
Highlights Of The Course
Here are the highlights of our 200 Hour Yoga Teacher Training in Goa-
Days: 15 Days.
Food & Accommodation included.
Certificate after successful completion.
Free WiFi on campus.
Course Fees: $1199 (Shared Room) & $1399 (Private Room)
Qualified and experienced teachers.
How To Join?
You can visit the enrollment page and fill out the required information related to the course. After that, choose your training course and the time frame for the 200 Hour Yoga TTC in Goa, India. You will have to pay an advance amount of $200 at the time of registration. Choose your payment method from the screen and follow the on-screen prompts to continue further.
You can also contact us via phone or email to resolve your query. We are available 24/7 to resolve your queries over phone calls and email.
Why Choose Us?
You might have a lot of choices when selecting a yoga school in Goa, but Samadhi Yoga Ashram delivers the most precise yoga teaching experience than any other yoga school. Our yoga teachers clear out any doubt left in your mind. We observe and focus on every student. As a result, you will learn the best from us.
Our course follows guidelines from Yoga Alliance and shares the knowledge of pranayamas, meditation, kriyas, and yoga asanas. If you want to get away from the stress and hassle of your daily life and want to feel a holistic transformation, then we have a perfect solution for you. Join our 200 Hr Yoga TTC in Goa.
Conclusion
We might be new in Goa, but not in the Yoga field. You will get backed up by a group of our experienced yoga teachers. We have designed special classes for meditation techniques, pranayama, kriyas, and asanas. Join our 200 Hour Yoga Teacher Training in Goa to rejuvenate the spirit, body, and mind to experience easy-to-adapt yoga practices.