The best Retreat Program to Explore Deep into Divinity through Yoga and Meditation
For anyone, who wants to explore the divinity and blissful aspects of yoga, our 6-days Yoga and Meditation Retreat program in Rishikesh can be a real bliss. Our Yoga retreat program has been designed for everyone keeping note of the expertise level. This week-long yoga retreat program is ideal for beginner and experts offering them something new and something pure to experience in a divine ambience of our Ashram in Rishikesh. We conduct yoga retreat programs round the year and in every week of the month to facilitate travelers, yoga enthusiasts and even yoga trainers.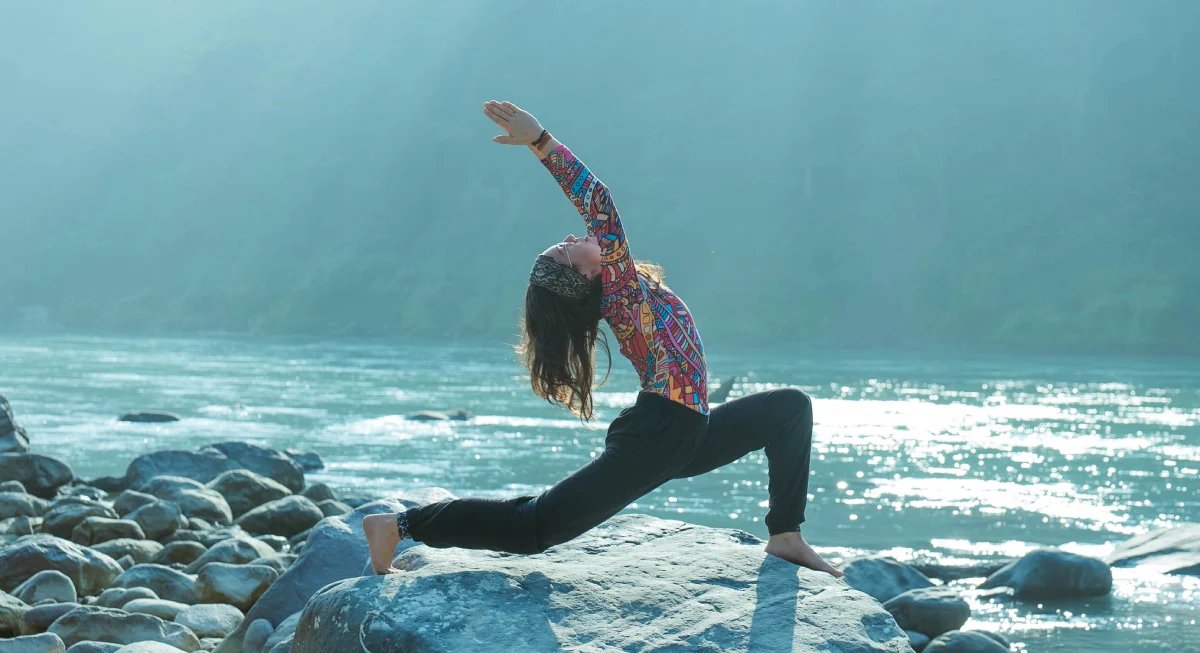 Your life is a gift of the Devine cherish it - Yogi Vishnu
The Blissful Aspect of our 6-Days Yoga and Meditation Retreat
At our Rishikesh Ashram, we offer Yoga and Meditation Retreat like none other. Our retreat programs are quite special in their fervor and grandeur. This program has been designed precisely taking into consideration all the aspects of Hatha and Ashtanga Yoga, which is combined with blissful meditation along with Ganga Aarti (Ganga rituals), Yagyan (Fire rituals), and lecturers. The yoga retreat program has been conducted under the strict and bestowing guidance of revered Yoga Teachers who have mastered the principles and philosophy for years. This helps to gain knowledge from the experts directly under their guidance and observations, which provides a deeper impact on learning and adopting yoga as a lifestyle. Our blissful retreat in the heavenly lap of the divine Ganga makes the entire experience a blissful one to enliven the moments forever.
Nothing from outside can full fill you but yourself, happiness is within - Yogi Vishnu
What can you expect when you join our 6 days Yoga and Meditation Retreat?
In our Ashram, we have devised this retreat to offer you a feeling of transformation from your chaotic lifestyle to a peaceful and blissful mind. The yoga retreat program has been formulated with daily yoga and pranayama sessions along with sacred fire rituals and mantra chanting. This 6-day program also includes nature excursions, Ayurvedic massage, and a tour of the Grand Himalayas, which offers you peace and tranquility deep in Mother Nature. With accommodation, lodging, shatvik foods, and other facilities, this yoga retreat program could be a real eye-opener for anyone be it a beginner or an experienced person in yoga.
What developments can you expect after completion of this yoga retreat program in Rishikesh?
From the date of admission into our Ashram in Rishikesh till the date of departure, you can experience a divine atmosphere inside our Rishikesh Ashram. Your stay inside this holy premise will be accompanied by spiritual rituals, mantra chanting, Vedic rituals along with a variety of self-development-related activities. You can not only feel a calm and tranquil atmosphere during your stay, but also feel the energy and power of positivity among the yogis, sadhaks, and spiritual masters. Within these 6 days of interaction, you can explore the path of delving deep into your inner-self and exploring your own identity in this material world. We will assist you to travel through this path of self-exploration of your intellect and conscience. With our 6 days Yoga and Meditation Retreat program in Rishikesh you can explore the divinity in a human soul with the ways and means to reach a supreme state of mind. This blissful retreat can help to take you to a higher level of human consciousness and help you to explore yourself as it should have been.
The feelings of yoga-detox and post-experience of this 6 days Yoga and Meditation Retreat program in Rishikesh can be reviewed from the testimonials of our disciples. We welcome you to explore the same divine expanse with our on-going Yoga and Meditation Retreat program. For admission and other queries, you are welcome to contact us!
Why Choose Samadhi yoga Ashram
Tradition- We follow Ancient Traditional yoga of The Himalayas.
Location – We are located in a peaceful, serene, and beautiful place in Rishikesh.
Lap of Mother Ganga- we are situated on the bank of the Ganga River.
Himalayan Jungle – The jungle is just behind our ashram closely.
Curriculum – All practices and theory
Teacher – we have 14+ experienced teachers under the guidance of Yogi Vishnu
Courses- we offer around 15 different important courses.
Experiences- Until now our ashram has trained more than 3000 yoga teachers around the world.
Spirituality- Our training is based on spiritual practices.
Kundalini-based training- Our main purpose is to awake the latent energy of our students.
First kundalini yoga ashram- we are the first school who stated the kundalini yoga TTC
Founder- Yogi Vishnu is one of the well-known Yogi who is the founder and teacher.
Holistic yoga- Holistic yoga Teacher training is one of the best course we offer
Attachment means seeing our self as part of the object, person and situation - Yogi Vishnu
What you will learn
Hatha Yoga (for physical health and flexibility)
Pranayama (for energy balance and proper breathing)
Meditation (for calming and relaxing the mind to achieve stillness and stability in our life )
Bandhas (For awaken the hidden energy and channeling the energy in the proper direction)
Mudras (Yogic gestures that help you to save your energy so that you can make yourself always happy )
Philosophy (you can understand your life better so that it will be easier to handle all difficulties of life)
Satkarma (Detox cleansing will help you to make yourself lighter and open)
Notes
The booking amount of 200 USD is non-refundable, the remaining fee needs to be paid on arrival.
There will be an additional cost of 50 USD for private accommodation & 25 USD for Air conditioners if needed.
The Retreat starts every Monday
The daily schedule may change according to weather
Frequently Asked Questions
We offer two yoga classes a day on our yoga retreats: a morning Traditional Hatha yoga class which is quite active and invigorating, and a heavenly Ashtanga vinyasa yoga class in the evening with a longer relaxation. Both classes are suitable for all levels. Along with that we teach meditation, and pranayama are also taught.
Yes, students from all level can join. We have around 15 to 20 people and it depend on the seasons.
People from all over the world join our retreat like from USA, Europe, South America, Africa, Asia and Australia. There is no boundaries of any religion, countries, races, colors and so on. All are same and one for us.
Yes regularly we will take you to some good places like Vashistha cave, Himalayan trip to kunjapuri temple, waterfall and so on.
We serve vegetarian meals. Incase you have some dietary need like vegan or glutton free diet you need to inform so that our cooking team prepare for you that.
We have many people joining our yoga retreats on their own – our solo guests enjoy an en-suite double room all to themselves and don't need to share a room. If you are free to share then it is also possible. There is different retreat fee of shared and private room.
Yes, you can book extra classes and just ask the reception to arrange with the teacher with and extra fees.
Yes we have yoga mat available. We always suggest to use own mat.
Plan to arrive at some point on the first day of the retreat (the first date mentioned in the dates listed on our website). We'll have a group dinner that evening to meet everyone, and yoga classes will start the next morning. The last class will be the evening before the last day of the retreat, and people will leave at some point on the next day depending on flights. Ashram check-out is usually around 12noon, but you can stay at the ashram and use the facilities.
Yes, if you'd like to arrive earlier or stay a few days extra, we can arrange that for you with the ashram. Please contact us for that.
To reach our ashram fly to Dehradun airport and our ashram car will go to pick you and it will take one hour to reach here. If you are arriving Delhi, you can fly to Dehradun or we can also send a taxi to pick you from airport which cost 80$.
First you need to deposit the advance fee to book your space and rest of the fee you need to pay by cash if possible. In case you can't to that you can pay through bank transfer or PayPal by adding the PayPal charges.
There is complimentary Wi-Fi in all the ashram rooms, as well as in common areas.
Our ashram have air conditioning in the rooms and it is included and excluded depending on package.
All our destinations are extremely safe, we are careful to pick locations that don't present any threat, we would never organize a yoga retreat in a place we felt would present any danger. We constantly monitor the situation in all the countries we visit to make sure there is no danger.
Tipping at ashram and restaurant is not obligatory, but of course always appreciated. It's not a set amount.
Students Reviews
Discipline Rules for Students
No Smoking and alcohol in the Ashram.
If you are not having your meal any day inform the kitchen Manager 3 hours before.
Respect your teacher and follow all the disciples make by the ashram for your successful course.
Always be on time, you are late means will not be permitted to join the class.
Before departure return your books, maps, or any goods which you borrowed.
Samadhi Yoga Ashram provides accommodation for a student who joins yoga classes. So any friends or relatives will not be included in the accommodation. If anybody is coming with you please inform the ashram earlier.
Students have to present in all scheduled programs of the Samadhi Yoga ashram.
Refund Policy - Samadhi Yoga Ashram
An advance of course fees will not be refundable, only in the case of emergency students can join us on other schedules.
If a student cancels the course, we accept cancellation but the advance deposit will not be refunded in cancellation.
There is no charge of course cancellation. The student just has to inform by email.
Samadhi Yoga Ashram is not responsible for any mishappenings before the course schedule