Explore The True Meaning Of Yoga Through Our online 200 hour yoga teacher training Course
In the last months, we all are closed in our homes because of the Covid pandemic. Many people have some dreams and goals for this year, but they can't. Now we the team of Samadhi Yoga Ashram takes a step forward for those people who want to be yoga instructors or yoga teachers. We want to fulfill all the dreams of people who want to make yoga their profession through online yoga teacher training 2023.
We, the team of Samadhi Yoga Ashram, decided to provide a online 200 hour yoga teacher training, which includes theories and experiments. We provide this training online, so you don't have to go anywhere. Just sit at your home and join us online. All the courses are divided into 200 hours. Many students joined us and shared their best experiences with us.
We provide yoga alliance 200-hour online training at a low price of just $395 USD only. We maintain a daily schedule in which we include different types of yoga, Aassans, and meditations. We give assignments to the students also so that they can be more confident.
Our instructors provide you the best and focused 200-hour online yoga TTC. We want to share our knowledge and experience with the young generations so that they can share with their upcoming generations too.
Yoga is something that heals your mind and provides you positive energies. We at the Samadhi Yoga Ashram have instructors or trainers for online 200-hour yoga teacher training who are well experienced and working in this field for the last 10 years.
The team of Samadhi Yoga Ashram wants to welcome you to our teacher training classes. We will also provide you the certifications after ending. After this 200-hour yoga certification online course, you will feel more energetic & confident. Here you can learn the science of yoga. So, if you want to join us, then call us or mail us. You can also enroll yourself and join our 200-hour online yoga teacher training.
योगेन चित्तस्य पदेन वाचा । मलं शरीरस्य च वैद्यकेन ॥ Yogena Chithasya Padena Vacha | Malam Shareerasya Cha Vaidyakena ||
Why our 200 hour Online Yoga teacher training is Special ?
You can Learn yoga teacher training from Rishikesh Yoga Capital of the world with the comfort from your home over the Internet
Once you are enrolled for our 200 Hour Yoga Teacher Training Online program, you are provided with a PDF curriculum specially designed with a balanced approach to learning and practicing. with the finest yoga Guru
150 Contact Hours (Live Yoga Class over Zoom from Rishikesh)
50 Non Contact Hours (Recorded video, audio class, self-practice)
You can Register As a certified yoga Teacher and teach World-wide
Option to complete the course through Self-paced
Interested to know more about our The 200 Hour Online Yoga TTC? to contact us or Write us an Email: samadhiyogaashram@gmail.com
Yoga Alliance USA certified 200 Hour Online Yoga Teacher Training Certification program
Samadhi Yoga International Approved Curriculum, 200 Hour Online Yoga TTC
Pawanmuktasana series 1
Pawanmuktasana serie 2
Pawanmuktasana series 3
sun salutation (Meditative and Vinyasa)
Moon Salutation (Meditative and Vinyasa)
Standing pose
Sitting pose
Kneeling pose
Forward bending asana
Backword being asana
Twisting asana
Fire series asana
Tadasana (palm tree pose)
Triyak tadasana (swaying palm tree pose)
Trikonasana (triangle pose)
Parivirtatrikon asana – revolving triangle pose
Uttkatasana –chair pose
Virabhadrasana 1 -warrior 1
Virabhadrasana 2 -warrior 2
Virabhadrasana 3 -warrior 3
Ardha Chandrasana- Half moon pose
Vriksasana – tree pose
Parvatasana – mountain pose
Adho mukha svanasana – downward facing dog
Kati chakra Asana – waist rotating pose
Malasana – squatted yoga pose
Garudasana – eagle pose
Baddha Konasana- bound angle pose
Rajkapoot asana – pegion pose
Bhujanghasana – cobra pose
Urdhva Mukha svanasana –upward facing dog
Matsyasana- fish pose
Setu Bhandasana– bridge pose
Utrasana– camel pose
Dhanurasana– Bow pose
Salabhasana– Locust pose
Supta Virasana- reclining hero pose
Virasana –hero pose
Vajrasana –thunderbolt
Gomukhasana– cow face pose
Balasana– child's pose
Dandasana– staff pose
Ardha Matsyendrasana– half fish twist
What is Prana and Pranayama?
How Prana flows in the body?
Types of major and sub prana
Pranayama and life span
Prana healing
Know how to breathe correctly
Diaphragmatic breathing and qualities of breath
Anatomy of pranayama
Kapal Bhati Pranayama Level I
Bhastrika Pranayama Level I
Bhramari Pranayama Level I
Sitli and Sitkari Pranayama without retention
Yogic breathing Level I with sitting and supine position
Nadi sodhanam Pranayama 1 techniques
What is meditation and what it is not
Major meditation Tradition
How to sit in meditation
How to breathe in meditation
How to relax in meditation
How to focus In meditation
So-ham meditation
Nadabrahma meditation
Mantra Meditation
Mastering Sleep through Yoga Nidra
Mastering Death through Yoga Nidra
Complete relaxation practice
Point to point Yoga Nidra
Buddha walk
Contemplation on real Self- Shivoham
What are Energy blockages?
Reasons for blocking the energy and chakras
Three majors energy blockages
Mula bandhas (Root lock) Level I
Uddiyana bandha (Abdominal lock) Level I
Jalandhar Bandha (Throat Lock) Level I
Maha Bandha ( Great Lock) Level I
What are Mudra and its necessity in yoga
Mudras- The energy channelizer
Jnana Mudra
Chin mudra
Bhairava mudra
Vishnu/pranayama mudra
Yoga Tradition and History of yoga
The Classical Texts of Yoga Tradition
Yoga Sutra of Patanjali – Raja Yoga
Bhagavat Geeta – Lord Krishna
What is ashtanga yoga
Mind and its functions
Chakras and Kundalini in Yoga
Hinduism – a way of living not a religion
Understanding the balance and imbalance of the body
Alignment an art to be free from injuries in yoga
Helping the energy flow correctly in the nadis
Adjusting pose is a part of yoga therapy
Applying in all exercises
Mantra What and Why
Origin of Mantras and The Vedas
4 kinds of Speech
Gayatri Mantra- om bhur bhuva? sva?
Shiva Mantra- om Namah Shivaya
Guru Mantra- Gurur brahma
Healing Mantras- om triyambakam
Understanding skeletal system for joints movement
The function of the Muscular system in yoga
Respiratory system and Pranayama
Spiritual Anatomy
Posture anatomy
Foundation of Yoga Therapy
Importance of Yoga therapy
Treatment of different kinds of diseases through yoga therapy
Alternative medicine is a boon for health
Origin, history, and development of Yoga Chikitsa
The yogic perspective of human existence
Health, disease, and Four-Fold Strategy of Yoga Therapy
Yoga Therapy and Amiable Disorders
Diagnostic Tools in Yoga Therapy
Yogic Diet
Shatkarma and their Therapeutic Benefits
Asana and their therapeutic application
Role of the teacher in the class
Sequencing the asana, pranayama and meditation
Understanding what Tantra truly is?
Tantra breathing to awake kundalini
Basic principles of Ayurveda
Ayurvedic perspective of Human Existence
Prakriti and its Analysis
Written Test
Oral Test
Attendance
Performance
Behavior
Why Choose Samadhi yoga Ashram
Tradition- We follow Ancient Traditional yoga of The Himalayas.
Location – We are located in a peaceful, serene, and beautiful place in Rishikesh.
Lap of Mother Ganga- we are situated on the bank of the Ganga River.
Himalayan Jungle – The jungle is just behind our ashram closely.
Curriculum – All practices and theory
Teacher – we have 14+ experienced teachers under the guidance of Yogi Vishnu
Courses- we offer around 15 different important courses.
Experiences- Until now our ashram has trained more than 3000 yoga teachers around the world.
Spirituality- Our training is based on spiritual practices.
Kundalini-based training- Our main purpose is to awake the latent energy of our students.
First kundalini yoga ashram- we are the first school who stated the kundalini yoga TTC
Founder- Yogi Vishnu is one of the well-known Yogi who is the founder and teacher.
Holistic yoga- Holistic yoga Teacher training is one of the best course we offer
Availability of The 200 Hour Online Yoga TTC 2023
Course NameCourse DateAvailabilityCourse FeeBooking
200 Hour Online YTTC01 st To 30ThJan02 Seats$395 USD$790 USDBook Now
200 Hour Online YTTC01 st To 28ThFeb 04 Seats$395 USD$790 USDBook Now
200 Hour Online YTTC01 st To 30ThMar 04 Seats$395 USD$790 USDBook Now
200 Hour Online YTTC01 st To 30ThApr 03 Seats$395 USD$790 USDBook Now
200 Hour Online YTTC01 st To 30ThMay 04 Seats$395 USD$790 USDBook Now
200 Hour Online YTTC01 st To 30ThJun 05 Seats$395 USD$790 USDBook Now
200 Hour Online YTTC01 st To 30ThJul 07 Seats$395 USD$790 USDBook Now
Free online class videos for home studies
Your Teachers For This Course
Yogi Vishnu Panigrahi
(Our Founder)
Yogi Vishnu Panigrahi has been steeped in spiritual endeavors since childhood. By the age of 20, Vishnu eventually made his way to Rishikesh and visited the caves of the Himalayas. He has been traveling and teaching spirituality outside and inside India for many years. He's completely appreciative of his experience in life so far. Now, he is deeply dedicated to guiding students to experience a unique and spiritually nourishing life journey all their own.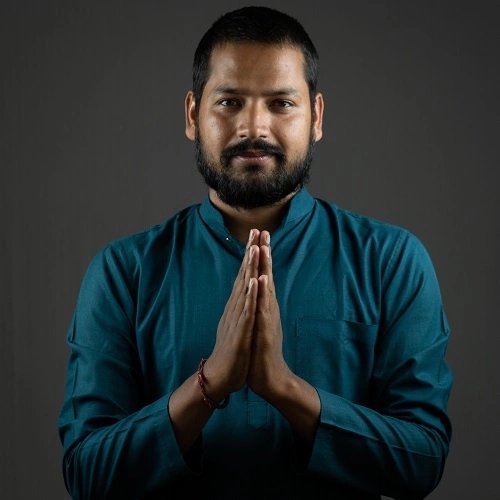 Rajeev Nautiyal
(Hatha/Ashtanga/Alignment)
Yogi Rajeev Kumar Nautiyal holds a bachelor in Engineering from Graphic Era University. After months of experience in the area, he felt the need to change his life for a more meaningful one and found himself immersed in yoga as a life-changing philosophy. As well as attaining a 500-hour TTC certificate, he has also graduated in Yogic Science from Uttarakhand University and in Yoga Naturopathy. He currently teaches hatha, vinyasa, Ashtanga and Pranayama.
Yogi Ashutosh Mishra
(Asana Teacher)
Ashutosh Mishra born & bought up in Rishikesh, it was in his gene to explore the great ancient art of yoga. His style is combination of intelligent sequencing and alignment for the body. He earned his Bachelor's Degree in yogic science. He did his master's in yoga therapy from Uttarakhand Sanskrit University. He started to practice karma yoga in the Ashram, helping local and international students to overcome the cultural barrier.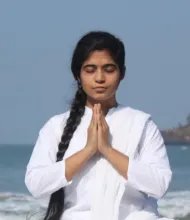 Yogini Neha
(Anatomy & Pranayama)
Ph.D. in Yoga and science from Rajasthan, University.She has completed her M.A in Yoga and science from Uttarakhand University.She also has a PGDM in Yoga from Patanjali Yogpeeth, Haridwar.Worked with the central government of India to teach Yoga in rural villages of Rajasthan, India.Worked as a Yoga instructor for various institution during her studies. She has conducted yoga retreats and workshops in Austria and Germany.
Frequently Asked Questions
Whoever willing to learn yoga step by step.
Take the next level in your practice.
Ease the transition before entering a full-time academic program.
Enjoy learning a new topic.
Whatever the reason, our online courses are a flexible way of learning about the art world without disrupting your daily life.
We conduct a few online courses. If you are interested in Hahta and Ashtanga style you can join Multy style Yoga TTC and if you are interested to learn kundalini yoga and hatha choose kundalini TTC.
200 YTTC is the first level and 300 YTTC is the advance level course. To register your certificate in yoga alliance you need to do first 200 YTTC.
Yes, you need to have basic English to attaten our yoga course.
We do not see the ecademic qualification, you need to have interest to learn the science of living.
You can book as many courses you want but at a time you only can attend one course. After that you can join another course.
No worries you can complete the course in 6 months of time.
After your certification make an account in yoga alliance and then follow the guidelines and it is easy. You need to put the picture of your certificate and then they will send us to confirm. After we confirm it you can pay and register. If you want to just send your certificate for confirmation they will not charge.
You can register whenever you want. If you start teaching yoga it will be nice to do as soon as possible. That make you confident in your profession.
If you are booking the course and payment do not go through then there are many different method and you can apply and also contact the team.
Yes we do. Students need any assistance can directly connect with our team.
There is no refund of your yoga fees that you have deposited for online course. Before you book please fix your mind and study the reviews and programs. Ask as many questions you want. You can postpone your course for another month.
You have to complete your course in one to six month of time.
You can join the certification ceremony on 9th or 26th of every month.
You should log in in yoga alliance and confirm your certificate there.
If you have already registered in yoga alliance for 200 RYT and if you do again this course then you can add the hour in continue education program in yoga alliance.
We provide all the video of the course in online platform. You can play all videoes one by one and study. There is also extra 50 hours live classes of asana, alignment, and philosophy. For that you will be given zoom meeting id and you can join.
We also form a whatsapp group and students share their issue if they meet so that our team can resolve them.
200 RYT is minimum 25 days. After that all live class stop and students need to do self study. 300 RYT goes 30 days after that if they want to continue more they need to self study.
In Online course we have around 20 to 40 students.
It works so nicely. We thought online course may not be effective but after trained one year of online course and teaching around 1500 students we realize this can change your life. without any confusion you can join and take the benefit. You can stay in your own comfort at home and practice.
You should have a computer, laptop or a smart phone. It is nice to use a microphone for a better sound.
If you are away from your home and if you are unable to attend the classes then do not worry, can complete and take more time.
All text books and manual will be given to you in Ebook form. So you no need to buy.any special book the teacher will recommend you can buy.
Students Reviews
For whom
Whoever want to be healthy and happy in Life.
Whoever want to learn yoga systematically.
Whoever want to practice from the traditional yoga teachers.
Whoever want to deeper the experience
Whoever financially challenged students can apply, as the cost is reasonable.
Whoever want to be an experienced yoga teacher and practitioner.
Whoever very busy and unable to attend a regular residential course.