Welcome To The Goa Chapter Of Samadhi Yoga
In the last couple of decades popularity of yoga has increased in geometrical proportions all over the world. Inhabitants of the Western Hemisphere have come to realize the great healing powers of yoga. They have understood that yoga is not only art or form of oriental exercise developed by the eastern monks but it is also a great medicine that can address multiple ailments of body and mind. 200-hour yoga teacher training course in Goa offered by Samadhi Yoga Ashram is designed to train up aspirant yoga teachers with the great healing powers of yoga and how it can be integrated with the principles of Ayurveda.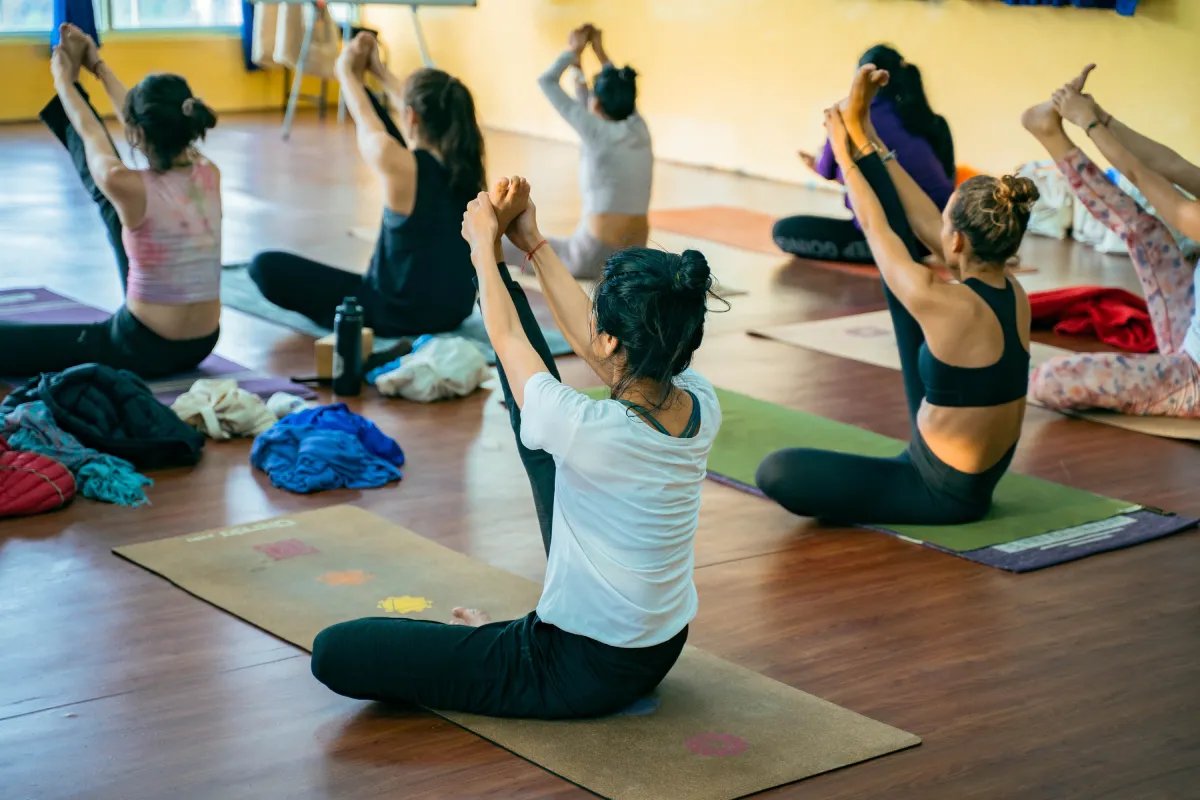 Treat this world as a dream, as that is what it is, nothing more, nothing less - Yogi Vishnu
You will be a certified and accomplished Yoga teacher at the end of our Yoga TTC in Goa
Samadhi Yoga Ashram is affiliated to and accredited by the Yoga Alliance International and USA. We understand that to become an accomplished yoga teacher you need the best training and highest quality Yoga TTC in Goa. Our 200-hour yoga teacher training course in Goa India is suitable for both beginners as well as seasoned yoga teachers. If you are a newcomer to the arena of yoga then it will accustom you to the basic and inherent principles of yoga and much more. On the other hand, if you are already a seasoned yoga trainer then also it would be useful because you will learn about how to use the great healing powers of yoga for the benefit of greater mankind.
We have the best faculties in the industry that can teach you the best aspects of yoga step by step
While yoga teacher courses designed in an innovative manner can open up a host of options for the aspirant yoga teachers, it is necessary for you to join the best yoga teacher training in Goa that would prepare you the best way so that you can become an accredited and accomplished yoga teacher. We have a team of highly accomplished and knowledgeable faculties under our wings who can guide you step by step through the process of acquiring the required skill for becoming one of the best yoga teachers that can inspire the students in becoming the yoga masters that can turn out to become universal dealers. The combination of the best training course, best faculties, and ideal infrastructure for yoga learning makes us the best yoga school in Goa.
What you learn with our 200-hour yoga teacher training course in Goa
Our innovative and intelligently devised Yoga TTC in Goa has been developed after years of research and studies by the best experts in the trade. At the same time, the training of teachers includes theory and practical sectors so that you are able to take care of the healing process of the ailing fellow humans.
Today Samadhi Yoga Ashram has more than a thousand trained yoga teachers across the globe that has undergone successfully our yoga teacher training in Goa.
The highest value of life is to love yourself first - Yogi Vishnu
Yoga Alliance USA certified 200 Hour Yoga Teacher Training In Goa Certification program: Complete Curriculum
Samadhi Yoga International Approved Curriculum, 200 Hour Yoga TTC
Pawanmuktasana series 1
Pawanmuktasana series 2
Pawanmuktasana series 3
sun salutation (Meditative and Vinyasa)
Moon Salutation (Meditative and Vinyasa)
Standing pose
Sitting pose
Kneeling pose
Forward bending asana
Backword being asana
Twisting asana
Fire series asana
Tadasana (palm tree pose)
Triyak tadasana (swaying palm tree pose)
Trikonasana (triangle pose)
Parivirtatrikon asana – revolving triangle pose
Uttkatasana –chair pose
Virabhadrasana 1 -warrior 1
Virabhadrasana 2 -warrior 2
Virabhadrasana 3 -warrior 3
Ardha Chandrasana- Half moon pose
Vriksasana – tree pose
Parvatasana – mountain pose
Adho mukha svanasana – downward facing dog
Kati chakra Asana – waist rotating pose
Malasana – squatted yoga pose
Garudasana – eagle pose
Baddha Konasana- bound angle pose
Rajkapoot asana – pegion pose
Bhujanghasana – cobra pose
Urdhva Mukha svanasana –upward facing dog
Matsyasana- fish pose
Setu Bhandasana– bridge pose
Utrasana– camel pose
Dhanurasana– Bow pose
Salabhasana– Locust pose
Supta Virasana- reclining hero pose
Virasana –hero pose
Vajrasana –thunderbolt
Gomukhasana– cow face pose
Balasana– child's pose
Dandasana– staff pose
Ardha Matsyendrasana– half fish twist
What is Prana and Pranayama?
How Prana flows in the body?
Types of major and sub prana
Pranayama and life span
Prana healing
Know how to breathe correctly
Diaphragmatic breathing and qualities of breath
Anatomy of pranayama
Kapal Bhati Pranayama Level I
Bhastrika Pranayama Level I
Bhramari Pranayama Level I
Sitli and Sitkari Pranayama without retention
Yogic breathing Level I with sitting and supine position
Nadi sodhanam Pranayama 1 techniques
What is meditation and what it is not
Major meditation Tradition
How to sit in meditation
How to breathe in meditation
How to relax in meditation
How to focus In meditation
So-ham meditation
Nadabrahma meditation
Mantra Meditation
Mastering Sleep through Yoga Nidra
Mastering Death through Yoga Nidra
Complete relaxation practice
Point to point Yoga Nidra
Buddha walk
Contemplation on real Self- Shivoham
What are Energy blockages?
Reasons for blocking the energy and chakras
Three majors energy blockages
Mula bandhas (Root lock) Level I
Uddiyana bandha (Abdominal lock) Level I
Jalandhar Bandha (Throat Lock) Level I
Maha Bandha ( Great Lock) Level I
What are Mudra and its necessity in yoga
Mudras- The energy channelizer
Jnana Mudra
Chin mudra
Bhairava mudra
Vishnu/pranayama mudra
Yoga Tradition and History of yoga
The Classical Texts of Yoga Tradition
Yoga Sutra of Patanjali – Raja Yoga
Bhagavat Geeta – Lord Krishna
What is ashtanga yoga
Mind and its functions
Chakras and Kundalini in Yoga
Hinduism – a way of living not a religion
Understanding the balance and imbalance of the body
Alignment an art to be free from injuries in yoga
Helping the energy flow correctly in the nadis
Adjusting pose is a part of yoga therapy
Applying in all exercises
Mantra What and Why
Origin of Mantras and The Vedas
4 kinds of Speech
Gayatri Mantra- om bhur bhuva? sva?
Shiva Mantra- om Namah Shivaya
Guru Mantra- Gurur brahma
Healing Mantras- om triyambakam
Understanding skeletal system for joints movement
The function of the Muscular system in yoga
Respiratory system and Pranayama
Spiritual Anatomy
Posture anatomy
Importance of Yoga therapy
Treatment of different kind of diseases through yoga therapy
Alternative medicine is a boon for health
Understanding what Tantra truly is?
Tantra breathing to awake kundalini
Basic principles of Ayurveda
Ayurvedic Massage
Role of the teacher in the class
Sequencing the asana, pranayama and meditation
Written Test
Oral Test
Attendance
Performance
Behavior
Why Choose Samadhi yoga Ashram
Tradition- We follow Ancient Traditional yoga of The Himalayas.
Location – We are located in a peaceful, serene, and beautiful place in Rishikesh.
Lap of Mother Ganga- we are situated on the bank of the Ganga River.
Himalayan Jungle – The jungle is just behind our ashram closely.
Curriculum – All practices and theory
Teacher – we have 14+ experienced teachers under the guidance of Yogi Vishnu
Courses- we offer around 15 different important courses.
Experiences- Until now our ashram has trained more than 3000 yoga teachers around the world.
Spirituality- Our training is based on spiritual practices.
Kundalini-based training- Our main purpose is to awake the latent energy of our students.
First kundalini yoga ashram- we are the first school who stated the kundalini yoga TTC
Founder- Yogi Vishnu is one of the well-known Yogi who is the founder and teacher.
Holistic yoga- Holistic yoga Teacher training is one of the best course we offer
Availability of The 200 Hour Yoga TTC 2023
200 Hour Yoga Teacher Training in Rishikesh, India will be conducted throughout the year on following dates in 2023
Course NameCourse DateAvailabilityCourse FeeBooking
200 Hour YTTC07th To 30th Dec 2023Fully Booked$1299Fully Booked
200 Hour YTTC07th To 30th Jan 202402 Seats left$1299Book Now
200 Hour YTTC07th To 29th Feb 202403 Seats left$1299Book Now
200 Hour YTTC07th To 30th Mar 202403 Seats left$1299Book Now
Do not feed your ego with your achievements - Yogi Vishnu
Frequently Asked Questions
To prepare yourself you need to Know these things:
Check the weather of India on that month you join.
Prepare yourself with some home studies of yoga, you can take the basic foundation course that we provide online.
Prepare your health and mind.
Come with an open mind to receive the wisdom of yoga
Yes, it is enough to teach, Our experienced yoga teacher will heal you and elevate you in such a way that you become inspired. After that, you cannot stay without teaching. Yes !!!! A yoga teacher is not only a teacher of techniques but a teacher of Love. Kindness and compassion. So come and elevate. We believe a true yoga teacher teaches first own self. You will be certified as a 200-hour yoga teacher and you can be registered in yoga alliance USA, Yoga Alliance professional.
Before teaching yoga you need to have a profound self-practice and training from the authentic yoga school. It is not the matter how long you should practice but it matters how much and how sincerely you practice and how much experience you have. At least 2 or 3 years of regular practice give you a good amount of experience to teach yoga. Yoga alliance also recommend 2 years of time
If you have done the 100 Hours basic yoga course, you will not be a registered yoga teacher in yoga alliance but you will be eligible to attend our 200 Yoga ttc in any month for 100 hour more and you will complete 200 hours. Yes you can teach the simple practices like joint movements, simple asana, pranayama and meditation practices.
Students Reviews
Discipline to be followed by the Students
No Smoking and alcohol in the school.
If you are not having your meal any day inform the kitchen Manager 3 hours before.
Respect your teacher and follow all the disciples make by the school for your successful course.
Always be on the time, you are late means will not be permitted to join the class.
Before departure return your books, maps, or any goods which you borrowed.
Samadhi Yoga Ashram provides accommodation for a student who joins yoga classes. So any friends or relatives will not be included in the accommodation. If anybody is coming with you please inform the school earlier.
Students have to present in all scheduled programs of the Samadhi Yoga ashram.
Refund Policy - Samadhi Yoga Ashram
An advance of course fees will not be refundable, only in the case of emergency students can join us on other schedules.
If a student cancels the course, we accept cancellation but the advance deposit will not be refund in cancellation.
There is no charge of course cancellation. Student just has to inform by email.
Samadhi Yoga ashram is not responsible for any mishappenings before course schedule